EigenLayer Deploys Restaking Testnet
Friday, April 7, 2023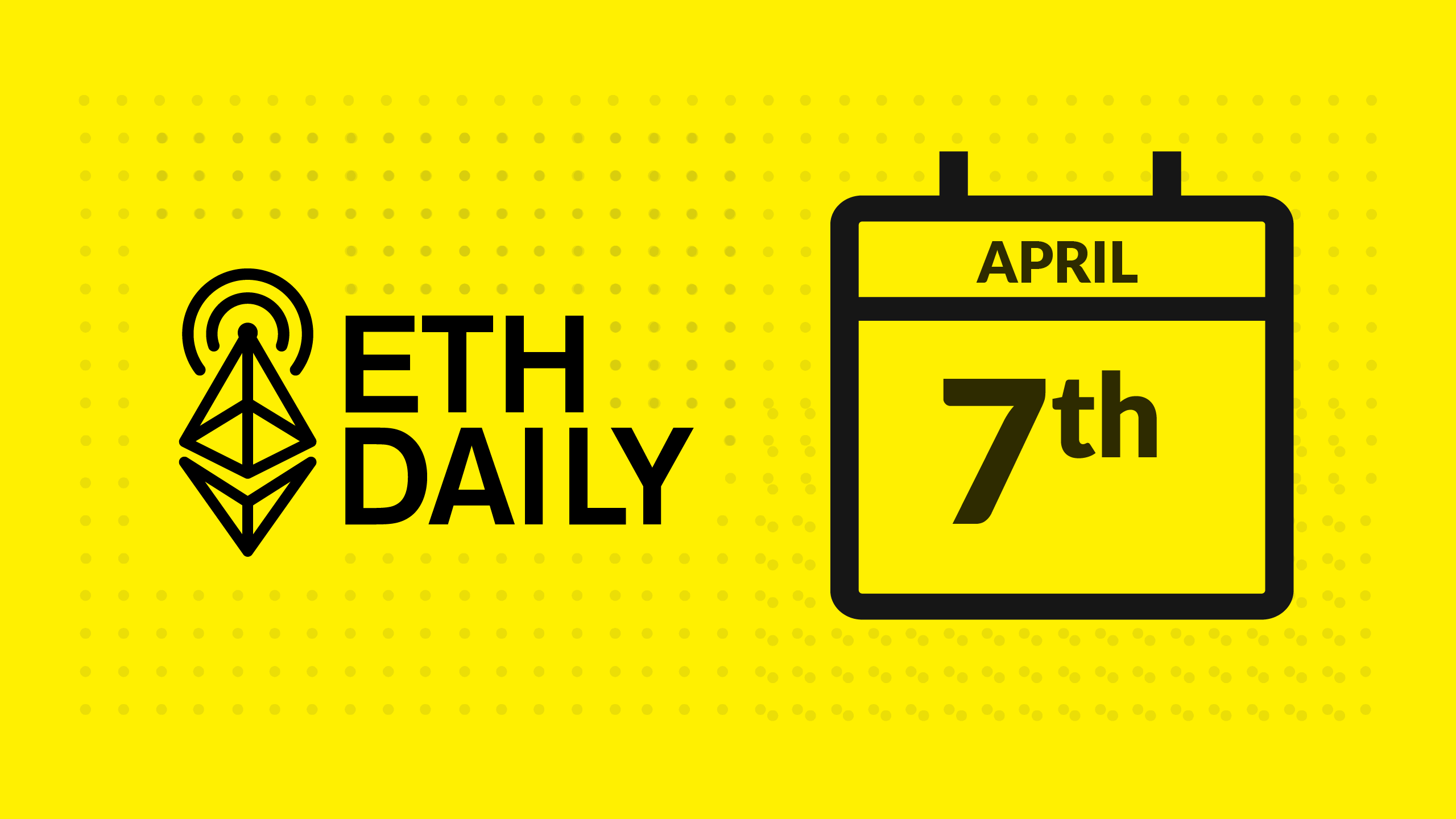 Quick Take
EigenLayer launches its initial restaking testnet.
zkSync finds a solution to unfreeze 921 ether.
ChainSafe launches a Goerli validator faucet.
U.S. Treasury publishes a report on the illicit risk of DeFi.
---
This episode is made possible thanks to Ether Capital!

Looking for more transparency when it comes to your staking operations? Try out Ether Capital's new staking dashboard. It's a free analytics tool that tracks your rewards and monitors validator performance. Register today to try out the free beta version of Ether Capital's staking dashboard: beta.ethcap.co
---
EigenLayer Deploys Restaking Testnet
EigenLayer, a re-staking protocol, deployed the initial stage of its testnet. The testnet is built on Goerli and is under active development. The release focuses on stakers with support for native re-staking as well as liquid re-staking for rETH and stETH tokens. The next two stages of the testnet will support operators and services.
New stakers can test the protocol by setting their validator withdrawal credentials to their EigenLayer smart contract. Existing stakers will be able to point their withdrawal credential to their EigenLayer smart contract after the Shapella upgrade. Existing stakers with 0x01 withdrawal credentials are required to un-stake and deploy a new validator to be able to point to a new withdrawal address.
$1.7 Million Stuck In zkSync Era Smart Contract
zkSync developed a solution to unfreeze 921 ether that is stuck on a contract deployed by an ecosystem project on zkSync Era. Gemholic, a project with Play2Earn products, had raised $1.7 million in a token sale. An issue related to the use of the transfer() function in its smart contract prevented the project from transferring out funds.
Citing a 2019 ConsenSys article urging developers to stop using the transfer() function, zkSync says best practices would have prevented the issue. zkSync also shared that Gemholic's contracts were not deployed on testnet. The zkSync compiler also warns developers about the .transfer() function when used. zkSync said it will make a small change to gas metering on its protocol, which will enable full recovery of the frozen assets.
ChainSafe Launches A Goerli Validator Faucet
ChainSafe launched a Goerli validator faucet, a tool that distributes Goerli ETH to users looking to test their validator setup. The faucet only requires users to deposit 3.3 testnet ETH to deploy a validator on Goerli. Users can even use tokens from the Polygon Mumbai and Moonbeam Moonbase Alpha testnets. ChainSafe will subsidize the 32 ETH required to run a validator.
The faucet is seeded with over 20k Goerli ETH to be used exclusively for validator deposits. Users are required to point their withdrawal address to a Sygma contract, which returns unstaked tokens to the faucet to be re-used by new validators. The faucet uses communications protocol Sygma to bridge data from other chains to Goerli.
U.S. Treasury Report On Illicit Risk Of DeFi
The U.S. Treasury released a report assessing the illicit finance risk of DeFi. The report highlights instances of DeFi projects failing to implement AML and CTF checks. Citing the use of admin keys for upgradeable contracts, the report suggests that most DeFi protocols are not actually decentralized and thus are subject to KYC requirements as part of the Bank Secrecy Act (BSA).
In the report's conclusion, the U.S. Treasury admits that "money laundering, proliferation financing, and terrorist financing most commonly occur using fiat currency." Coin Center published a response to the report, claiming that the assessment misunderstands self-custody and makes potentially unconstitutional recommendations.
Redacted Cartel Introduces Dinero Stablecoin
Redacted Cartel introduced Dinero, an overcollateralized stablecoin claimed to be backed by Ethereum block space. Dinero will feature its own RPC endpoint, stablecoin, and Liquid Staking Token (LST). Redacted plans to enable an RPC and block builder network that protects users from MEV attacks. Redacted Cartel is a fork of Olympus DAO focused on building governance among stablecoin liquidity protocols.