Polygon Announces Immutable zkEVM
Monday, March 20, 2023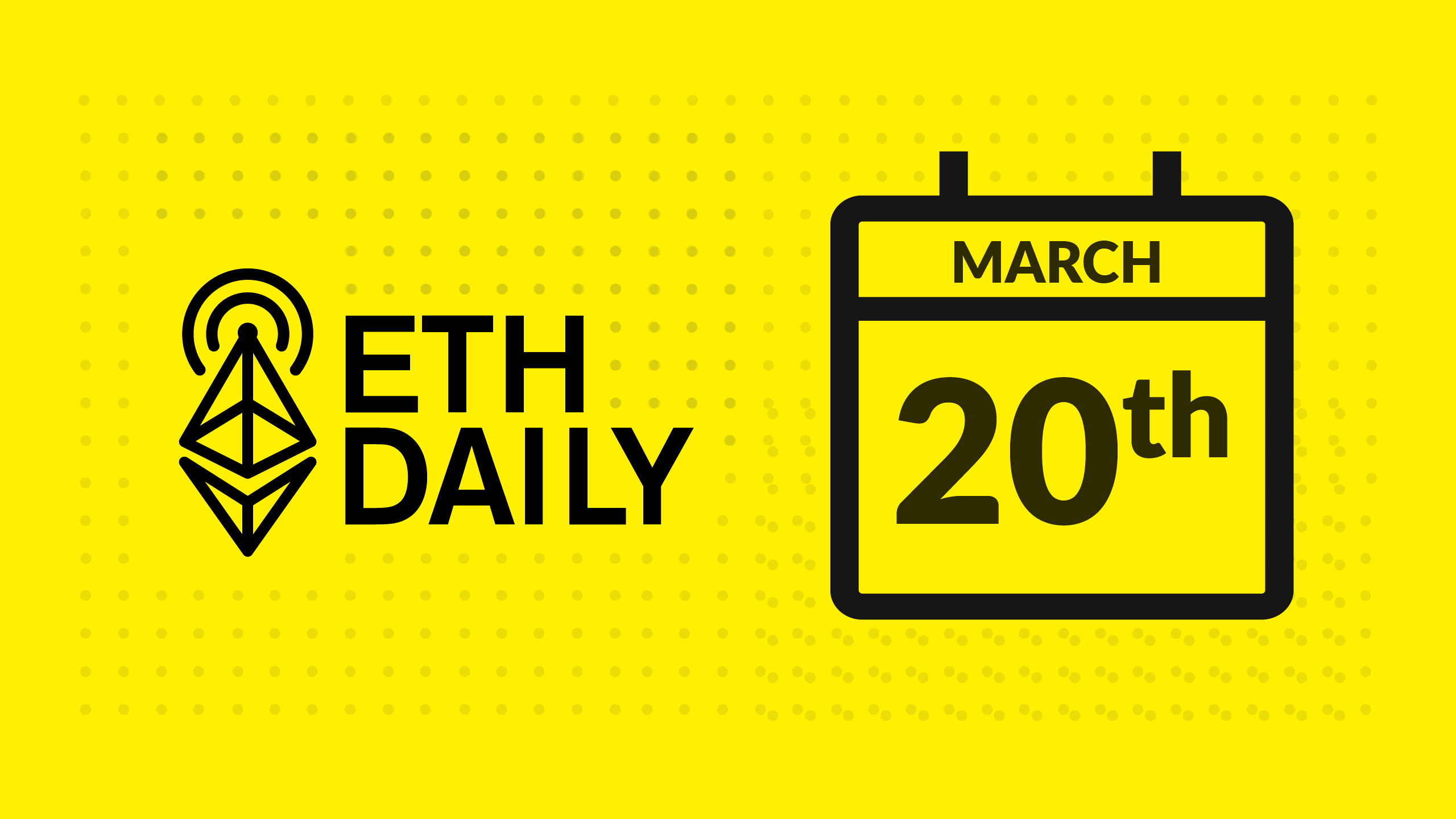 Quick Take
Polygon announces the Immutable zkEVM.
Eueler exploiter returns 3,000 ether.
StarkNet kicks off DAO governance.
DeFiLlama resolves its hostile takeover.
---
Get the original hardware wallet (affiliate link).
---
Polygon Announces Immutable zkEVM
Polygon announced Immutable zkEVM, a ZK-based blockchain dedicated to the Immutable web3 gaming platform. Immutable zkEVM will be an ​​EVM-compatible ZK-rollup, allowing developers to deploy custom smart contracts using existing Ethereum tooling. Polygon and Immutable plan to launch the new chain in Q2 2023.
Immutable zkEVM will use $IMX as its native gas token. According to Polygon Co-Founder Sandeep Nailwal, Immutable zkEVM will migrate from using a single sequencer into using a custom validator set based on $MATIC staking. The validator set will earn fees from transactions on the Immutable zkEVM chain. Game studios will also be able to deploy app chains as L3s on Immutable zkEVM.
Immutable will continue support for game development on its StarkEx-based chain known as Immutable X. StarkEx is a ZK-rollup-based scaling solution by StarkWare. While Immutable X offers gasless transactions and ultra-high throughput, it is not EVM-compatible.
Eueler Exploiter Returns 3,000 Ether
The Euler exploiter returned 3,000 ether to the Euler deployer contract over the weekend. The amount only accounts for $5.4 million out of the $197 million that was drained from Euler last week. The exploiter also sent a follow-up message to Euler, stating they have "no intention of keeping" the stolen funds.
The exploiter also stated that they would like to come to an agreement. Euler responded to the message, asking the exploiter to talk in private over blockscan. The exploiter's message comes days after Euler announced a $1 million bounty for information leading to an arrest and the return of extracted funds. The exploiter previously deposited 1,100 stolen ether into Tornado Cash.
StarkNet Kicks Off DAO Governance
StarkWare is kicking off governance for the StarkNet DAO. The genesis proposal seeks to deploy Starknet Alpha v0.11.0 to mainnet. The upgrade allows dapps on StarkNet to deploy and execute contracts in Cairo 1.0. The proposal opens for voting on March 21st. StarkNet users can delegate their voting power on delegate.starknet.io.
The Starknet Foundation is also delegating a portion of its voting power to individual delegates. Once deployed, Starknet Alpha v0.11.0 will mark the beginning of a transition period into the new version of StarkNet. The period will last a couple of months and will require StarkNet Alpha users to upgrade their account contract. Only Cairo 1.0 contracts will be supported after the transition is over.

DeFiLlama Resolves Hostile Takeover
Over the weekend, DefiLlama underwent a hostile takeover after internal employees disagreed with plans to launch a native token. DefiLlama pseudonymous employee 0xngmi stated that "the person who controls both defillama's Twitter and domain has decided to launch a token despite everybody in the team not wanting it."
0xngmi then launched a fork of DefiLlama accessible at llama.fi. The statement came a day after DefiLlama tweeted that there will be a "nice surprise" for its users. Earlier today, however, DefiLlama apologized for the situation and stated there will be no token. 0xngmi also stated the issue was resolved and llama.fi will now redirect back to defillama.com.
MEVconomics Summit On Friday
Flashbots and ETHGlobal are hosting MEVconomics Summit, a virtual one-day event about the current state of MEV economics. Speakers include Vitalik Buterin, Sreeram Kannan, Hasu, and Tarun Chitra. The summit will feature three tracks covering "Lay of the Land of MEVconomics," "Lay of the Layers of MEVconomics," and distribution mechanisms. Users can sign up for the summit at mevconomics.wtf.