Uniswap V4 Sandbox On OP Stack
It allows developers to experiment with new Uniswap V4 pool logic and EIP-1153 transient storage use cases.
Quick Take
Uniswap V4 Sandbox on the OP Stack.
OpenSea introduces Shipyard.
Aztec Network pays out a $450k bug bounty.
UniRep Protocol trusted setup ceremony.
---
Listen on: Apple | Castbox | Spotify | YouTube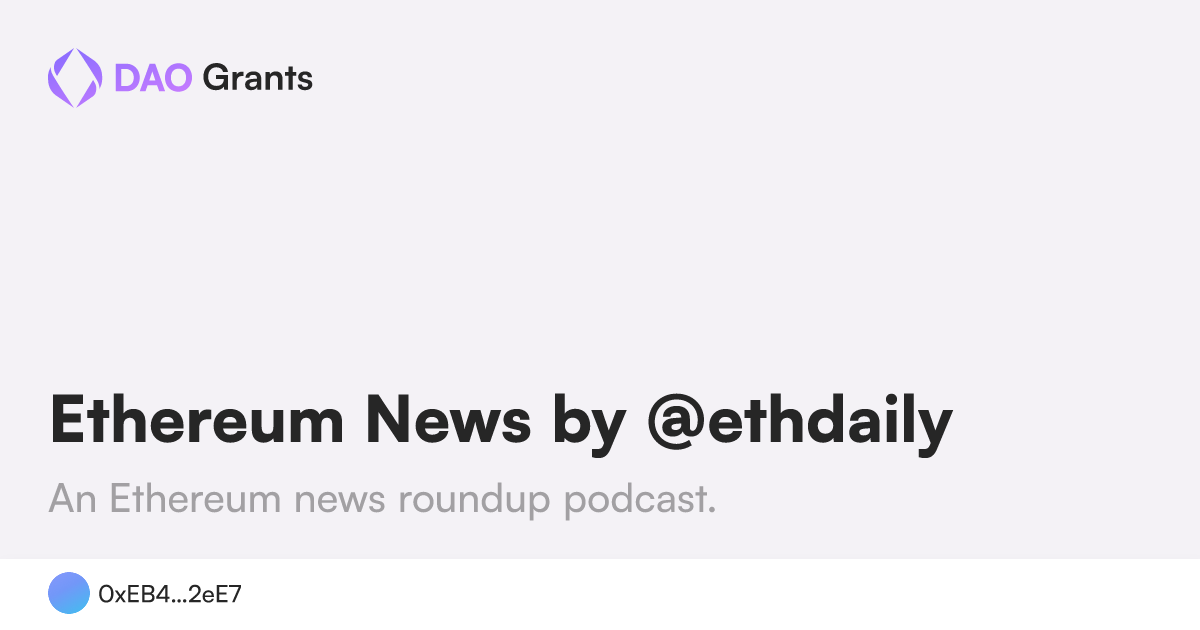 ---
Uniswap V4 Sandbox On OP Stack
Conduit, in collaboration with the Uniswap Foundation, launched the Uniswap V4 Sandbox, a testnet that allows developers to explore and deploy custom AMMs. Designed as an OP Stack rollup on Conduit, it allows developers to experiment with new Uniswap V4 pool logic and EIP-1153 transient storage use cases. Conduit specializes in providing rollup-as-a-service, enabling developers to deploy their own OP Stack rollup and connect with various infrastructure providers in the ecosystem. Uniswap V4 is the latest version of Uniswap, featuring hooks and a singleton contract architecture that helps address liquidity fragmentation.
Aztec Network Pays $450k Bug Bounty
Aztec Network paid out a $450k bug bounty to an independent researcher for a vulnerability reported via Immunefi. The vulnerability was in Aztec Connect, a DeFi-focused portal built on a privacy-centric ZK-Rollup. The issue centered on the computation of a user's transaction output. Given this flaw, malicious sequencers could potentially access or redirect user funds. The issue arose due to difficulties in executing integer arithmetic in ZK circuits. To address it, Aztec Network put in place strict constraints to deter any tampering. Aztec strongly advises users to withdraw their funds from the zk.money platform, which closed down earlier this year.
OpenSea Introduces Shipyard
OpenSea introduced Shipyard, a new open-source collection of Solidity contracts tailored for NFT creators. Shipyard aims to set shared standards, establish best practices, and simplify the process of NFT development. It includes templates from top NFT libraries and houses an open repository for developer contributions. Shipyard features support for dynamic onchain metadata, smoother NFT transfers, and tools for implementing Seaport Improvement Proposals (SIPs). Developers can currently use Shipyard to deploy NFT contracts on testnet. The contracts are not yet formally audited for mainnet deployment.
PSE Launches UniRep Ceremony
UniRep Protocol, a ZK-based reputation protocol, launched a trusted setup ceremony coined as The Celestial Call. The ceremony aims to redefine reputation and establish parameters for UniRep proofs. Users can contribute to the ceremony, which started on October 10, 2023, and will last for 64 days, ending on December 12. UniRep is being developed by the Privacy & Scaling Explorations (PSE) Ethereum research team.
Other News
---
Subscribe
🔗 Website | 🎙️ Podcast | 🎥 Video | 🌿 Lens | 🐦 Twitter | 🟪 Farcaster